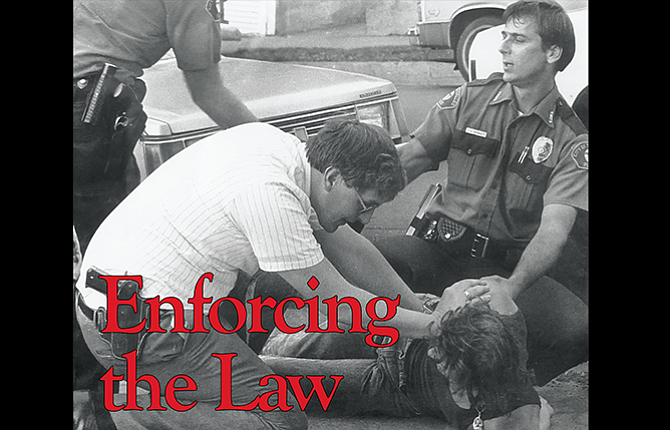 Saturday, August 12, 2017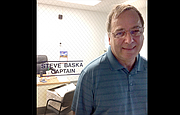 When the police chief heard that the Chronicle would be interviewing retiring The Dalles Police Capt. Steve Baska, the chief's immediate — and correct — response was, "Oh no!"
Baska is famously, delightfully, unfiltered. Even his office décor reflected it, with a framed image on a shelf that said, "You can't fix stupid."
His 31 years with the city police enabled him to wryly observe, and comment upon, the foibles of humanity.
Other officers sometimes worried he would "get beefed," or have a complaint filed against him for his unvarnished comments, and were amazed when he didn't. "It's a gift," Baska shrugged. Some people can just say it straight, but in a way that doesn't rankle.
"They're just envious that I'm saying what they're thinking," said Baska, whose last day with the department was Aug. 2.
"He's irreplaceable," said his replacement, Jamie Carrico, who does have a filter. (Fun fact: Carrico got his first speeding ticket, back around 1987, from Baska.)
Police Chief Pat Ashmore, who asked Baska to stay on awhile longer when Ashmore came to helm the department a year ago, commented, "Baska, what can I say…" But he went on to add, "All joking aside, he was very good to me when I came here. He had 30-plus years of knowledge working for the department. He definitely was not political, but was good at bringing me up to speed with personnel and department processes.
"He was receptive to change and would always joke by saying, 'That's because we've always done it that way.' He loved the department and had a great relationship with Chief [Jay] Waterbury. He was firm, but fair. I really enjoyed working with him this past year."
Baska's skills at commentary go way back. "'Smart a—' was what a lady called me when I was 12," he said. "I thought it was a compliment for years."
Baska "barely" graduated from Aloha High School and was leaning toward attending Portland State University, but the admissions counselor there took one look at his grades and suggested the military instead.
Baska honed his banter — and lost whatever filter he might've had — in the Marine Corps, where his tight-knit and ethnically diverse platoon bonded. "We just picked on each other all the time."
He enjoyed the Marines, where he was pushed "to do things you never dreamed you were capable of doing. In boot camp, it was because you were scared of those monsters called DIs [drill instructors]."
The Corps was "something that stayed with me my entire life," he said, giving him "the command presence that's so badly needed in law enforcement."
After the Marines, Baska worked for the Columbia River Intertribal Fish Commission, and then as a Wasco County jailer before joining the city police in January 1986. He became a sergeant in 1994 and captain in 2014.
He'd originally wanted to be an astronaut, until he learned it required math. Then as a kid he got hooked on the TV show "Adam-12," which led many a viewer into law enforcement.
He hated the TV show "Dragnet," labelling it "boring. 'Just the facts, ma'am,'" he said, citing the famous tag line from the show.
What he wanted was action. "I like being out and doing stuff and that excitement and activity. There's nothing routine about the job."
He recounted when he first hired on at the city and was told he'd have to join the Teamsters Union. "I said, 'Isn't that a criminal enterprise?'"
And that was the department's introduction to the straight-talking Baska.
His work as a jailer enabled him to quickly become a productive officer. He'd spent eight hours a day with inmates as a guard and had gotten to know their names and faces well, giving him an advantage over other officers in spotting offenders on the streets and connecting them with crimes.
"I was arresting people like crazy because I knew them all."
Baska worked as a detective for 10 years, and the moments of putting together a complex case and getting a conviction were the most satisfying of his career.
His most gratifying case involved the murder of Wanda Eichinger, an elderly woman who was beaten to death. He started with no physical evidence, but was able to get a confession from her killer, which then led to physical evidence that helped solidify the case.
"That kid is still in prison," Baska said. "He will never get out."
"There's been times when being in this job sucks," he added. "The suicides are tough because it's a very selfish act. Now your pain's over, but you've transferred and magnified onto your family."
CAPTAIN BASKA
In the last few years he's worked as captain and overseen all day-to-day operational aspects of the department, from getting oil changes for vehicles to handling personnel issues to ordering equipment, like an extra-large helmet for an officer with an extra-large head.
He said, "My managing style is we hire the best people we can find and we hire them because they can make good decisions. I do not micromanage."
He cribbed managing techniques from others that he saw were effective, and also learned from their "stupid mistakes." All those do make people mad "and they badmouth you behind your back."
Baska was interviewed on his last day at work. An office get-together was planned that afternoon, with a retirement cake, and it was actually notable that Baska would be there. A sergeant stopped by and said, "I just want to tease you. I think this is the first department function you've attended."
Baska admitted, "I probably dodged a few Christmas parties because they get out of control."
Then Animal Control Officer Lisa Stuck, who is British, popped in to say farewell to Baska and he quipped, "Your English is getting better."
She zinged back, "Wow, that's the nicest thing he's said to me in two years."
CHANGING TIMES
Over Baska's 31-year career, plenty has changed. Not least is that the department moved from a 1,400-square-foot space in city hall to its 10,000-square-foot location across the street.
At city hall, "it was cramped quarters. Somebody used the bathroom, everybody paid for it."
Law enforcement has changed perpetually over the decades, with new laws coming on the books and constant evolution in tactics and procedures.
Equipment has modernized. When Baska started, "We had two radars, and one radar you had to slap it to get it to work. And the cars were in terrible shape."
In societal terms, Baska said heroin was basically unheard of when he got here, and now it's everywhere.
The biggest change is that people don't know their neighbors anymore. And that leads to an increase in police calls for "neighborhood beefs."
Baska was succinct in his disdain for such issues: "Good Lord people, grow up!"
His classic example is the person who calls to complain that the neighbor is watering their lawn. Instead of thinking, "Hey, now I don't have to!" the neighbor calls the police, Baska said.
"What do you think the neighbor is going to think when the cops come because they're watering their neighbor's yard?" he said.
It is those petty complaints that he will miss the least. "Every little complaint they have, they bring it here. People don't deal with their problems like they used to. People don't get to know their neighbors so they complain about them."
He continued his unvarnished assessment of societal changes, saying, "Kids are definitely more obnoxious. Kids don't have the respect for adults that they did when I was growing up."
When a reporter marveled at his blunt comments, Baska said, "This is what Chief Ashmore says to me: 'You said that with your outside voice.'"
QUALITY LINEUP
As for the department itself, Baska said the biggest change is in the quality of the lineup. "We've probably got the best group of officers ever right now." When they make promotions, they struggle because there are so many qualified candidates. He's talked to officers who left the department and wished they hadn't.
The department is becoming more proactive, particularly on traffic issues, such as the recent crosswalk enforcement efforts.
"I think the crosswalk program has really helped, but we paid a serious price for it. God, people became hostile. Holy crap!"
One woman came in complaining that an officer during one sidewalk enforcement event had yelled at her and flipped her off. Baska knew which officer was involved — "she might as well have said the pope flipped her off" — and was dubious of her complaint, but said he would check the videotape.
He did, and lo and behold the video actually showed the woman was flipping off the officer and yelling at him.
PRANKSTER
Baska was an epic prankster, and in the old offices at city hall he and another officer once rerouted an exhaust pipe from the bathroom into a sergeant's office nearby. It stayed that way for two years.
He also sometimes rigged a control device in patrol cars to where every single feature in the car would come on at once —lights, siren, everything — when the incoming officer for the next shift would get in the car and push a certain button.
He liked to prank graveyard shift officers that way, but he finally quit when a resident in the apartments across the street yelled out late one evening, "What's wrong with you people?! We're trying to sleep!"
Another time he unscrewed the phone handset and taped over the listening holes so a particular sergeant couldn't hear incoming calls.
Baska left, then realized he didn't want the sergeant calling the phone company, so he asked another officer there to un-do his prank. The sergeant saw that officer un-do it, and assumed he was the prankster. Those two commenced a two-year prank war, and Baska watched it all, unscathed.
Former The Dalles Police Chief Jay Waterbury said, "Steve was the department practical joker. I don't know if anybody on the department did not end up coming out of the butt end of one of his jokes, me included."
Waterbury added, "He's a smart guy. He's a tough one to pull a prank on, as much as I would like to, but I've never been able to top him."
Waterbury promoted him to captain, "And I thought he did a wonderful job and he'll be missed by everybody in the department. I was glad to have the opportunity to work with him," he said.
It's easy for Baska to say what he'll miss the most, and that's the people.
"It's been fun. I'm gonna miss it, but it's a young man's game.
"These last few years, you end up wrestling with some guy, and you go, 'Oh my god, it's going to hurt.'"
"We have a great time here. Every morning I come in and say, 'Don't get arrested' and they say, 'Well, we will try not to.'"