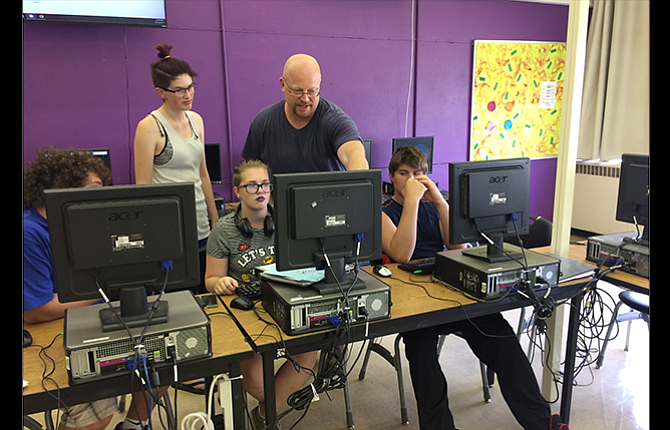 While calculus might be viewed as a daunting level of high school math, a group of students at Wahtonka Community School are approaching it in the form of an exercise challenge.
Students are doing real exercises, such as squats and vertical jumps, then charting their progress each week.
But where it gets complex is that they also have to consider 24 constants and variables, such as their sleep quality, diet, and history of illness — and how those relate to each other over time — to calculate the maximum number of squats or vertical jumps they could do in one sitting in their lifetime.
Katrina Carlson, 16, a junior, is already a seasoned coder and programmer. She's added extra variables for herself, providing a further layer of complexity. She's factoring in things like the clothing worn — leggings would allow more squats, for example, than stiff jeans — and even room conditions. A crowded room might inhibit someone from exerting themselves, for example.
Each variable has to be ranked in importance relative to other variables and constants. For example, one variable might be eight times more important than another.
Once all the calculations of those constants and variables are correct — which can take a few tries — and entered into the program, it will spit out the final lifetime result. It also plots the lifetime progress on a graph.
"We do some brainy stuff here," said Brian Goodwin, the principal of the school and also its current math teacher. He also wanted to put the word out that for the first time ever, the 55-student school does not have a waiting list, and it has several openings, with several more expected.
For the math exercise project, he is using a program called STELLA. "It allows you to develop a very deep understanding of systems, so it's system dynamics."
While students are cutting their teeth on the exercise project, he wants to turn them on next to a more real-world application of systems dynamics: trying to calculate what it would take to sustainably grow enough food locally for the community.
Wahtonka students are doing their part for the local food chain, tending a large garden at Petersburg School and selling their produce wherever they can. Student Boone Cooper is a dynamo who takes on every project he can find.
He's sold produce at the Farmer's Market and has even sold them door to door in his neighborhood.
This Friday, four or five students will be doing the Community Meal, preparing chicken a la king, broccoli, biscuits and cupcakes.
"Boone loves to cook," said teacher Krystal Klebes. He's in the Wahtonka Community School Key Club, Boy Scouts, and he helps build Habitat for Humanity homes.
He's also helped put Wahtonka produce in local stores through the Healthy Corner Store Project by Gorge Grown Food Network.
As he was being interviewed, he was working on a ring made of hemp.
"Boone is the project king, he's so creative," Klebes said.
New teacher Anthony Schaeffer said Cooper is a people person who knows everybody. He's also math-averse, apparently. Schaeffer said Cooper does math "accidentally."
Each student must be doing six projects at a time, with one of them being a community service project.
While other students have tended to do community service through a non-profit organization, student Caleb Kinder is taking his service directly to the community.
He put out flyers in his Murray's Addition neighborhood offering free yardwork help to those who are unable to do it themselves anymore. So far, he has found two very grateful takers.
He's handy with everything from chainsaws to hedge trimmers, and hopes to go into construction work.
Nearby, Jonny Nagel was working on a graphic novel about the zombie apocalypse. Now he just needed to come up with the artwork for it, which he'll source from magazines.