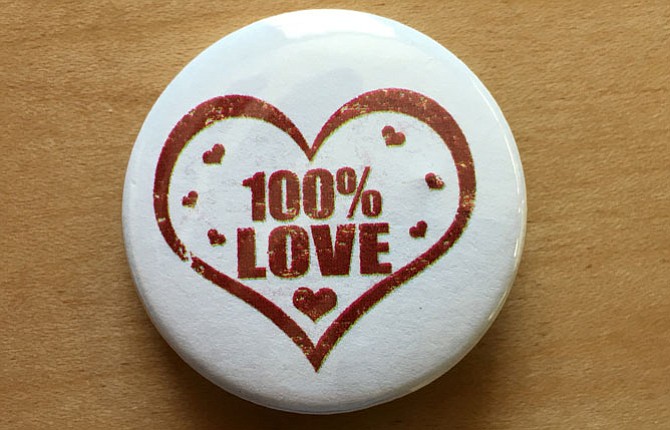 When Wasco County Clerk Lisa Gambee realized some citizens don't like the government no matter how it tries to help, Administrative Officer Tyler Stone jokingly said, "Welcome to county government: 50 percent of the people love you and 50 percent of the people love to hate you." To which Gambee replied, "Yes, but that's still 100 percent love."
And the 100 percent love movement, with bookmarks, note pads and buttons, was born.
Complete with a culture guide, written by Stone and Gambee, the county hopes to use 100 percent love to re-energize how it serves its citizens and employees.
The guide asks what does 100 percent love look like, as an individual, team and organization with the big picture of the county valuing all employees, the employees valuing each other and everyone serving citizens to the best of their abilities whether their actions are fully appreciated or not.
It addresses healing from the trauma of budget cuts, salary compensation changes, layoffs and litigation, as well as lists actions that build culture, like being transparent and open with each other, celebrating and acknowledging one another's successes, making the heart symbol with your hands, and wearing the 100 percent love button, and finding one way every day to say, "thank you."
During the hiring process, the county will look for employees who it believes will embody the 100 percent love culture.
"A lot of this is already being done so it's not starting from scratch," Gambee said. "It's just a new name for some of the things that are really good about the county. But part of it too is really to be able to sit down and have it in a document and say this is the expectation."
"It's catchy, easy to remember and takes people out of their comfort zone," Stone added.
The 100 percent love campaign has already had an impact on the county.
When a deputy from the sheriff's office was called out to a distraught woman's house because her mailbox had been destroyed, he went by the hardware store and bought supplies with his own money to replace and install her mailbox.
When the administrative team was too busy to decorate their door for Christmas, the assessor's office decorated it for them. And in January, the clerk's and assessor's offices traded offices to give the 14-member assessor team more space.
Work on the culture guide began when the Wasco County senior management team spent three days at Washington Ranch in late January putting together a blueprint for how the government will serve its citizens. The county also wanted to create a strategic plan.

With the vision of "pioneering pathways to prosperity," that plan was released to the public and adopted by the county commissioners last week.
"A county needs to take a step back and really think about where we're going and what's coming at us," Stone said. "This strategic plan helps us do that. I'm really excited about it."
Stone, who'd wanted a strategic plan for a while, said a change in staff and managing style gave the county the opportunity to create the document, which was written by Stone and Gambee.
Stone said the management team was able to come together, whereas in the past, departments had stood apart from each other rather than working as an integrated service provider. They imagined a re-envisioned government with transparency, accountability and collaboration. The plan will be implemented in every department and supported by all staff members. Behind the mission statement "Partner with our citizens to proactively meet their needs and create opportunities," the management team identified seven pathways that are critical to moving toward achieving the vision of a prosperous Wasco County — technology, customer service, infrastructure and resources, communication, financial health, safety and organizational development.
Stone said the county has already been working on most of these pathways over the past four years.
The county plans to redesign its website over the next year with updated content and enhanced information as well as create an online citizen services portal over the next three to five years.
The new 20,000-square-foot Mid-Columbia Center for Living building is expected to be completed in two years. The county also wants to get the best use out of the former armory site at Sixth and Webber and other county-owned lands, and update the comprehensive land use plan.
Each department will now take the strategic plan and create their own.