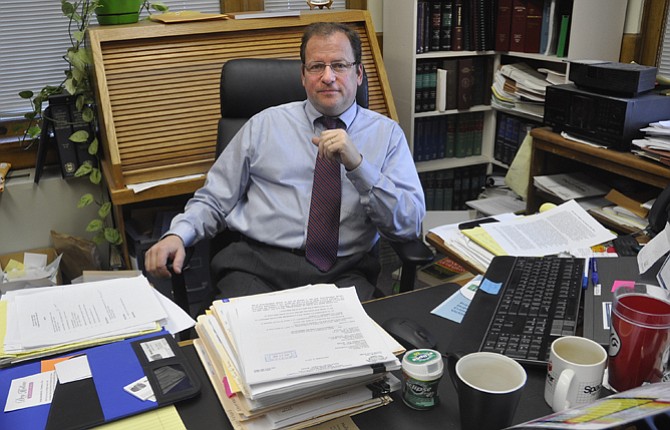 Wasco County's legal counsel filed a bar complaint against District Attorney Eric Nisley, alleging eight instances of ethics violations that ranged from conflict of interest to retaliation and soliciting sex from a county employee.
Nisley denied all of the allegations and said the move "seems to be political payback" for his wife running against county commissioner Rod Runyon and retaliation against him for various criticisms he's made of the commissioners.
Brad Timmons, who became Wasco County's attorney Jan. 1 after Nisley quit that post in November, filed the complaint with the Oregon State Bar on May 20.
Calling his complaint a "litany" of violations, Timmons alleged that Nisley "wholly neglected to act in his client's [Wasco County's] best interest and instead, advocated against his client and/or former client."
Four of the eight claims center around what Timmons alleges as Nisley's "meritless" investigation of a county department head "for the purpose of retaliating against" her because she rejected a sexual advance in 2011.
Nisley characterized the 2011 incident as a "joke" that "was tasteless and I regretted it." He said, "I am human, I messed up and I apologized."
"I did not commit a crime or violate an ethics rule," he said.
Nisley said the investigation, which is ongoing, does not center on that employee.
The complaint alleges Nisley asked the state Department of Justice to investigate the county employee, and when the DOJ was about to issue a report concluding there was no wrongdoing, Nisley took the case over himself and has continued it.
The complaint also alleges Nisley, as part of the investigation, issued an "overbroad," "surreptitious" subpoena "against his own client," the county, without telling county officials, "for personal and political reasons, to embarrass them or to otherwise cause them harm."
Nisley earlier told the Chronicle an original subpoena was overbroad, due to a scrivener, or typist, error and was not fulfilled.
Later, a narrower subpoena was fulfilled, but he would not describe its scope, saying it was an ongoing investigation.
On Sunday, Nisley told the Chronicle via email, "In the matter being investigated, the records subpoenaed related specifically to potential misappropriation of county funds by a certain county official. Such conduct may constitute official misconduct or theft. These are crimes that I reasonably believed to have been committed in Wasco County and required investigation." Two of the eight complaints allege Nisley showed a conflict of interest, breached confidentiality and engaged in misconduct by taking on "the review of a public records request that had a direct relationship to his wife's political campaign."
The October 2014 record request, from a man in Central Point, sought campaign-related and other emails of Runyon, who was unsuccessfully challenged in a political campaign last year by Nisley's wife.
The county sought to charge the man $1,200 for the emails, but Nisley ordered the county to provide them at no cost, saying a fee waiver was appropriate because the records were in the public interest.
Nisley said the claim that his opinion on the public records request "had a direct relationship to my wife's campaign is absurd. My opinion was issued on Dec. 1, 2014. The election was held on Nov. 5, 2014."
Finally, the complaint alleges Nisley engaged in misconduct and violated the special responsibilities of a prosecutor when, at a local bar, he publicly displayed photos of a corpse taken during an autopsy. It was of a man who burned to death when he set his house on fire after being served with eviction papers. The audience of the "unsolicited display" reported revulsion on seeing the photo "during this alarming lapse in judgment and decorum," the bar complaint alleged.
Nisley said autopsy photos are disclosable to the public when no crime is charged, and "Timmons knows this. Regardless of this, I did not display photos of a corpse in a bar as he claims."
The Chronicle spoke Monday to a woman who said Nisley showed her the photo on his phone on April 20. "I didn't study it because it made me really uncomfortable and it felt very inappropriate," the woman said, "and I felt if this was my family how would I feel if this was shown, in a bar." The woman asked that her name not be published or disclosed to Nisley. When Nisley was asked to respond to her statement, he said, "Autopsy photos are no different than any other public record once the matter is closed. Any member of the public has a right to inspect and/or copy like they can in any other public record file."
Nisley said his specific criticisms of the commission that he felt has drawn retaliation were "for being critical of their secret meetings, violation of public meetings law and the hiring of the Timmons law firm [as county counsel] with no attempt to get a quote from any other law firm in the gorge."
Nisley noted that, when the health district needed its own attorney, the health district director "was forced to seek a quote from every firm in the gorge. When the commissioners needed an attorney, they did not feel the need to obtain such quotes and hired the attorney they play golf with."
Timmons said he's played golf once with one commissioner. He noted he's also played golf with Nisley. The county hired Timmons, who officials had worked with before, after seeking quotes from two firms. The contract was granted on a no-bid emergency basis, since the county had no attorney at the time, and officials also felt the law was unclear whether bids were needed for legal services.
Runyon was cleared of wrongdoing by the Secretary of State's office after two complaints, one anonymous, were filed during the election alleging violations of public meetings law. Bridget Bailey, who is Nisley's wife, accused the county commission during the campaign of holding "secret" budget meetings. County officials said the process to set the budget followed several meetings with department heads and the public.
RELATED: Complaint takes issue with DA handling of public record request.
Secret subpoena at issue in dispute